Less Time, Less Labor
Three Emitters + One Cycle = More Coverage, Less Time and Better Efficacy
Single emiiter systems must be repositioned throughout the in room up FIVE times, resulting in a 51-146.3* minute cycle. Data shows Surfacide completes one cycle in less than 20 minutes.
Surfacide C.diff Infection Prevention
Surfacide is honored to be a part of the CDIFFerently infection prevention bundle St. Luke's Campus of Mohawk Valley Health System
Surfacide Data on Candida Auris
Surfacide is proud to be a key part of the bundled enhanced terminal HAI reduction at Mount Sinai and others in the battle against Candida Auris.
Surfacide Data provides Successful Environment Disinfection
Surfacide Data on UV-C Light as an Adjunct to Infection Control in a Pediatric Burn Hospital – Julie Weitz, BSN RN et al., Shriners Hospitals for Children Cincinnati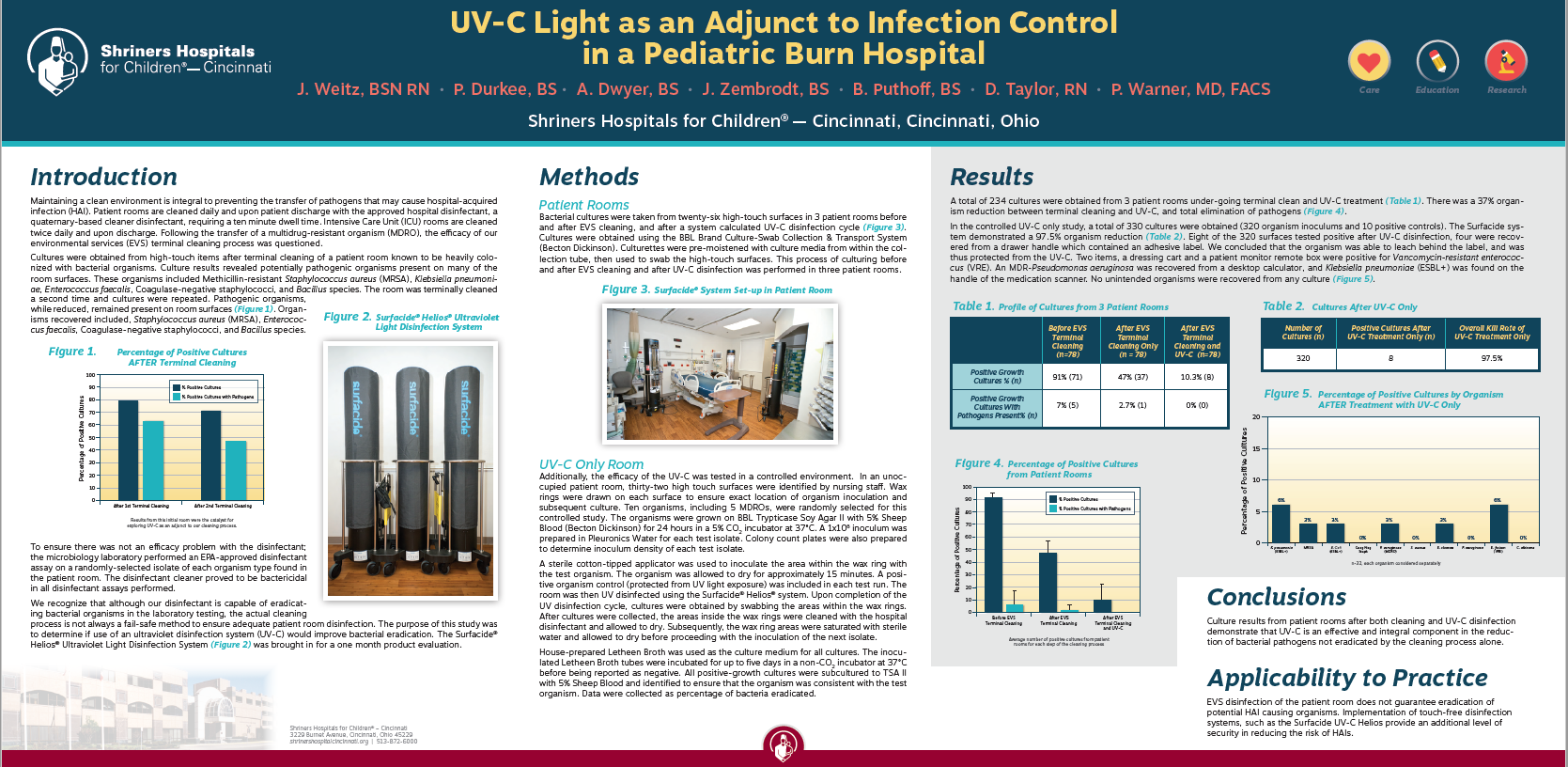 Determined that the use of Surfacide as an additional tool in the reduction of HAIs in patient room areas was a "effective and integral component in the reduction of bacterial pathogens not eradicated by the cleaning process alone."
Surfacide Data continued Success with UV-C Light Disinfection – Making the Case for Reducing HAIs, Susan Hanrahan MC, CIC, CRCST, Infection Prevention Manager JSUMC; Chad Haraschak BS, Environmental Services, Crothall Healthcare
This study demonstrated that persistent use of the Surfacide system in two ICU areas resulted in a quantifiable reduction in CLABSI rates and a statistically significant reduction in CAUTI rates. Ultimately, the 15-month study documented a 53% decrease in CAUTI rates along with several months with zero infections and improved patient outcomes.
Impact of Ultraviolet (UV) Disinfection System Coupled with Evidence Based Interventions on the Incidence of Hospital Onset Clostridium Difficile by Dr. Heather Bernard from Faxton St Luke's
The implementation of Surfacide at Faxton St. Luke's resulted in a 41% reduction in their hospital acquired C. diff rates in a single year of use. The introduction of Surfacide was following the introduction of a comprehensive C. diff intervention bundle with limited effect on overall hospital onset C. diff rates.